more than two years have passed since this picture was taken. i came across it as i was rummaging through our jvp23 yahoogroups. since the pre-orsem of our batch the staff have been mentioning that i look just like aleish, my so "called twin sister" in the picture. i didnt see her yet then, but was quietly anticipating the meeting.
and the meeting did happen, right after the manila local comm send off mass, there she was. i would have said no, and insisted on my individuality. but the similarity is just so uncanny, maybe its the hair, or the complexion, or the smile, or a combination of all things. over time i kinda convinced myself that a replica of me can exist.
i am reading "angels and demons" by dan brown right now. and i must say that i have been hooked on it since sunday, when i first got hold of it. after 50 chapters or so of reading, one idea that i remembered the most is the principle of "duality," that nothing can exist without its exact opposite. the yin and yang, night and day, hot and cold, black and white. inhale and exhale, and yes to some extent man and woman.
as the picture and the memories attach to it revive, i remember that dualities exist because they are expressions to the concept of "balance." i have been pretty alien to the term, maybe because, physically i lack equilibrium. it's quite difficult for me to walk straight on a balancing rod, my left shoulder is lower than my right, my left eye smaller than my right, and so on.
however, it has been presented to me time and again, in levels above than what is obvious. like girlie talking about the law of compensation (acute sense of hearing and not having a boyfriend), or rey and vinchie advising about "bumabad ka sa area" and "wag kalimutan ang sarili."
but at the end of the day, it could probably mean one thing. that persons are not meant to be alone. there is someone out there for me. last night, as ninin and myself were having dinner she asked me "makakahanap pa kaya ako ng bahay?" "oo naman," i blurted out. then jokingly, "e boypren?" i said somberly, "there is someone meant for you, and there is someone meant for me..."
with that i gripped my faith again and wished for the twin of my heart. the one who will balance me... and would somehow set things right with me.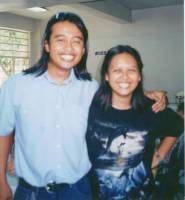 twins